Comments Off

on TERAMNUS (WINER / RABBIT VINE) – A PERSISTENT PASTURE LEGUME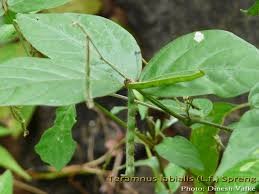 CHARACTERISTICS
This is a genus with four species distributed in tropical Africa, Southeast Asia, Northern South America and the West Indies. It is a deep-rooted, drought tolerant, high pH adapted, trailing forage legume. It has the ability to produce adventitious roots from nodes on trailing stems.
Treramnus will grow in areas where annual rainfall is 1000 mm (40 in) or more. It is less productive in the dry season than either sirato or glycine and it is very well adapted to heavy cracking clay soils. Teramnus shows excellent ability in its soil requirements. Research by CARDI Scientists has shown that under a grazing system it can add as much nitrogen to a hectare of land as 15 bags of sulphate of ammonia.
Forage production in its first year is low, but as it becomes better established its productivity and persistency increase. It is a very palatable legume and is readily consumed by all classes of livestock including pigs and rabbits (as its common name in Barbados implies). Teramnus will withstand overgrazing better than either siratro or glycine and in mixed stands with grasses its basal buds and shoots on a partly buried crown enable it to survive such close continuous grazing.
Teramnus is an important component of natural pastures forming excellent associations with Antigua Hay grass (Dicanthium aristatum) and Seymour or
Barbados Sour grass (Bothriochloa pertusa) Studies in Barbados showed that Teramnus made up nearly 20 per cent of the forage dry matter in sour grass pastures in the rainy season. However, the proportion of Teramnus had increased to 28 per cent early in the dry season.
Teramnus grows well in association with such bunch type grasses as elephant (Pennisetum purpureum) and guinea (Panucum maximum) because the twining stems allow the plant to climb-up the grass. It also associates well with creeping grasses like Pangola (Digitaria dicombens) African Star (Cynodon plectostachyus) and Bermudas.
ESTABLISHMENT
Large scale cattle or sheep farmers should plant teramnus at the rate of 2-5 kg per ha (2-5 lb per ac) with pure stand energy banks of forage sorghum, sordan or elephant grass to increase the protein content of the forage at harvest time. Such mixed swards ensile readily if 50 kg of molasses is added per tonne of green material when the forage is being compacted in the silo.
As a result of CARDI's research, the institute recommends that Teramnus be mixed with siratro (Macroptylium atropurpureum) and glycine (Neonototia wightii) in a ration 1:2:2 by weight and planted at the rate of 5 kg per ha (5 lb per ac). This has resulted in versatile, productive and persistent grazing pastures when sown with Guinea, African Star and the Bermuda grasses. It is important that the seed bed be well prepared and the seed broadcasted using a fertilizer spreader.
YIELD
Dry matter yields pure stand plantings averaged 2-4 t per ha per harvest over five cuttings in Antigua. The plant was harvested at the mature seed pod stage and its protein ranged between 14.1 and 18.2 per cent.
FEEDING VALUE
The nutrient content of the whole plant sampled at the mature seed pod stage is listed below: The analyses are based on results from Antigua, Barbados and Trinidad.
Proximate Analysis
| | | | |
| --- | --- | --- | --- |
| | Antigua | Barbados | Trinidad |
| Nutrient | Percent | | |
| Protein | 16.3 | 18.3 | 14.9 |
| Fiber | 18.6 | 21.7 | 0 |
| Fat | 0 | 7.3 | 0 |
| Calcium | 0.82 | 1.10 | 1.50 |
| Phosphorus | 0 | 0.36 | 0.22 |
| Ash | 0 | 3.22 | 0 |
At present time, CARDI is one of the few sources of commercial seed.