Comments Off

on Plantain Production Tips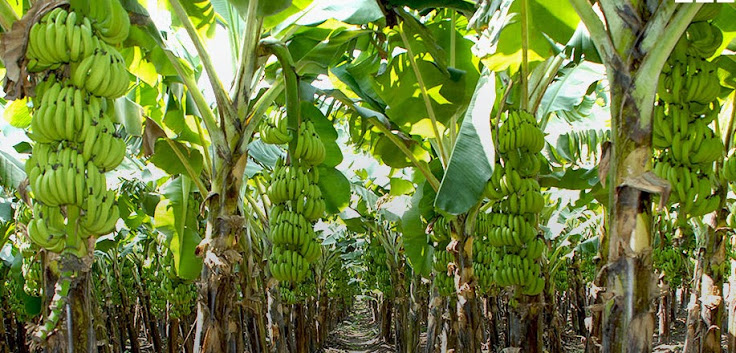 Varieties
(1) French: – Large bunch with more than 80 fingers per bunch.
(2) Horn:- small bunch with 35 to 40 fingers per bunch
Agro ecological Requirements
Plantain can be grown from sea level to 470 meters or 1,500 feet above sea level. Areas to be planted should be first cleared by brush weeding. Plantain can be grown on a wide range of soils provided there is a good drainage, adequate fertility and moisture. Plantain is prone to toppling and leaf shedding when grown in areas which are exposed to strong winds. The preferred sites are sheltered valleys and where these are not available, windbreaks should be established.
Planting- holes 2 feet (60 cm) square and 1.5 feet (45 cm) deep should be dug.
Spacing: – 8 feet by 8 feet or 2.4 meters by 2.4 meters gives a total of 680 plants per acre or 1,600 plants per hectare. The dwarf varieties and other horn type may be planted 5×5 feet (1.5 x 1.5 m) or 6.5 x 6.5 feet (2 x 2 m) which provides 1,000-1, 8000 plants per acre or 2,500 – 4,444 plants per hectare.
(i) Sword Suckers(ii) Main Corn (iii) setts (bull head split in sections)
Cultural Practices– De-suckering (removal of suckers). There should be a mother, a daughter and a peeper. All other unwanted suckers should be removed
Fertilizer – 100 grams (0.5 lbs) of NPK per mat one month after planting and again at 3, 5 and 7 months.
Weed Control– weeds should be controlled until the leaf canopy is sufficiently large to assist in suppressing weed growth. Weeds should be slashed and left in place between the mats thus providing ground cover which in turn prevents erosion of the top soil and aids moisture conservation.
Pest the major pests are the root borer or weevil (Cosmopolitessordidus gemmer) and nematode.