Comments Off

on Papaya Production Tips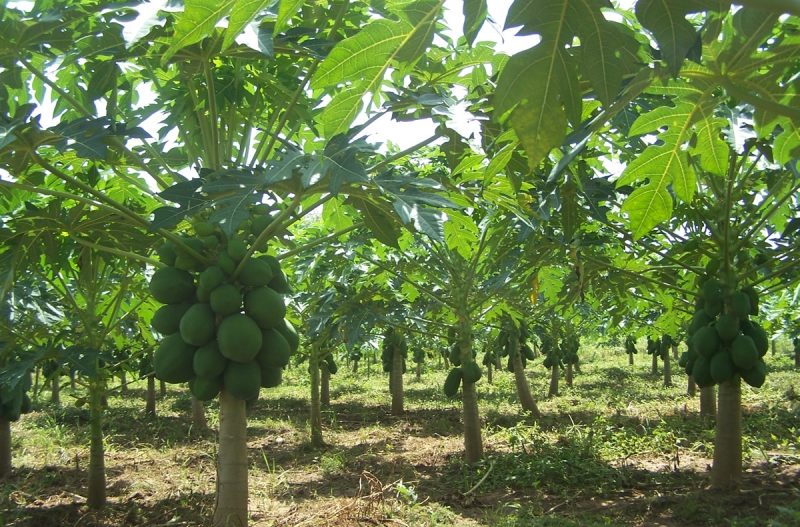 Introduction–
The papaya (Carica papaya L) is cultivated throughout the topics for its edible fruits the ripe fresh fruits are eaten for breakfast and dessert as well as in fruit salads. The fruits are also used in the confectionary industry. Unripe (green) fruits are also cooked.
Varieties–
The varieties of papaya cultivated in the Caribbean are Sunrise, Barbados Yellow, Tainung #1, Tainung #2, Tainung #5 and Known- You #1.
Seed selection–
Seeds for planting must be removed from ripe selected fruit, washed properly and then dried in the shade. The gelatinous substance (aril) is removed since it contains inhibitors that delay or prevent seed germination. Seeds are stored in sealed containers at 50 C.
Fruits
The Fruits shape is determined by the sex of the flower. Female flowers produce round or oval fruits while hermaphroditic flowers produce elongated or pear shaped fruits.
Propagation–
1, 2 or 3 seeds are planted in small (10 cm x 15cm) plastic bags filled with soil mixture to provide good drainage. Other methods include the use of speedling trays and peat pots. Germination occurs within 8 to 15 days after sowing. The time required between sowing and transplanting in the field ranges from 6- 12 weeks. When transplanting, the plants should have a strong stem to avoid bending.
Ecological requirements
The papayaplant prefers fertile soils with good drainage, well distributed rainfall (1400-2000mm) and warm temperature of 25 to 300 C.
Land Preparation –
For flat gentle sloping sandy loam soils with low clay content, the area is cleared and harrowed once or twice. On heavy clay soils, it may be necessary to deep plough and chisel the soil to improve internal drainage. On heavy soil it is recommended to make cambered beds with drains separating the beds
Spacing–
Plant spacing varies from 8 to 10ft (1- 3 m) between plants within the rows and 7 to 16ft (2 – 5m) between rows.
Weed Control –
The weeds can be brush cut or sprayed with herbicides e.g. Paraquat as long as they do not damage the leaves or stem. The papaya plant is very susceptible to herbicide sprays.
Fertilization –
It is recommended to use 15-15-15 at the following rate: at planting 1\4lb (120g) per plant; 1- 3 month old' -3\4lb (360g) per plant per month and after 7 months- 1b (454g) per plant per month.
Irrigation–
General estimate suggest that papayas in its productive stage require an average of 25mm water per week for optimum production.
Harvesting –
Papaya fruits could be harvested when the first change of colour from green to yellow is observed. When harvested by hand or with knives, the peduncle is snapped or cut from next to the tree then trimmed against the top fruit.
Post-Harvest –
After harvesting, fruits should be placed in single layers into shallow, light coloured field crates, preferable containing a foam layer of cushioning, field crates containing the fruits should be left in shade conditions protected from sun and rain while awaiting collection.