Comments Off

on ORGANIC FARMING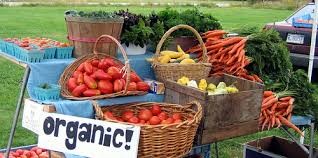 Pest and diseases are part of the natural environmental system. In this system there is a balance between predators and pests. This is nature's way of controlling populations. These creatures that we call pests and the organisms that causes disease only become 'pest and disease' when their activities start to damage crops and it affect crop yields. The aim of organic farming is to restore a balance between pest and predator and to keep pests and diseases down to an acceptable level.
CROP ROTATION:
Growing the same crop in the same site year after year can encourage a buildup of pests and disease in the soil. These will transfer from one crop to the next. Crops should be moved to a different area of land each year, and not returned to the original site for several years. For vegetables a 3 to 4 year rotation is usually recommended as a minimum. Crop rotation also helps a variety of natural predators to survive on the farm. A typical 4-year rotation would include a cycle with maize and beans such as string beans and a root such as sweet potato.
GOOD SANITATION:
If infected plant material that are alive or dead, is left lying around, pests and diseases can be passed on to future crops. Debris should be cleared up and disposed of. This can be done be composting the debris. The composting process will kill some pests and diseases, also the produce of the compost is a good soil improver and fertilizer.
SOIL TILAGE:
Many pests spend part their lives as larvae or pupae in the soil. Ploughing or digging when the soil is dry can reveal the pest and they will dry out and die in the sun, or they can be picked off the ground by hand or birds or other predators. Ploughing can also push the pest deep down into the ground where they will not be able to survive.
LIMING:
The pH (acidity or alkalinity) of a soil can affect some diseases. Changing the pH can reduce the problem which can be done by using calcium carbonate (Lime).
COMPANION PLANTS:
These are plants, which seeks to deter pests from the main crop: examples of such plants are herbs and carrots. The pungent scent from the herbs helps deter pest that will attack the carrots.
BARRIERS:
Barriers are physical structures put in place to prevent a pest from reaching a plant. They keep pest away from a plant but do not kill them. Here are some examples that you can adapt, depending on the resources available to you:
Crawling insects: Cut the top of transparent plastic bottle and place it firmly into the ground, over a young plant. This stops pests such as slugs from reaching the plants.
Climbing insects: To help protect trees from attack by insects, grease bands can be used. Wrap a piece of plastic or a long leaf around the trunk of the tree. Spread any kind of thick grease on top of this and fold over the top of the foil or plastic a rate of ½ teaspoon per gallon of water, Delta-M at a rate of 2 teaspoon per gallon.
DISEASE MANAGEMENT:
Cercospora Leaf Spot
The first symptoms of this is gray spots that gradually become darker on the leaves progressing to form circular lesion with holes in the centre. It is a major problem during the wet season. Spraying with phython27 at a rate of 2 teaspoon per gallon of water and Bio-life 2 teaspoon per gallon of water and Copper Plus 2 teaspoon per gallon of water will reduce the spread of the fungus significantly.
Sooty Mould
This is another fungus that affects the crop during the wet season. The symptoms first appear on the underside of the leaves as dark moulds covering the entire under leaves. This reduces growth significantly. Spraying with Bio-life with 2 teaspoon per gallon of water, Python 27 with 2 teaspoon per gallon of water and Kocide at the rate of one teaspoon per gallon of water in rotation will reduce the disease incidence.
HARVESTING
Watermelon should be cut from the vine rather than pulled, twisted or broken off. Pulling stems out provides an entrance for bacteria and fungi that can cause souring and can decay the internal flesh. As melons are cut from their vines, the bottoms, which are subject to sunscald should be turned down. Signs of ripening include drying of tendrils, fading of elongated strips on melon and billowing sound when the watermelon is tapped.
Department of Agriculture
Organic farming
Destruction of the environment is no excuse for progress. The green revolution did boost increase food production but the resultant damage to the environment is too costly to determine. With the advent of biotechnology, scientists think that they have found the answer to maintaining sustainable agriculture. But the European countries are uneasy about the use of gene.- spliced microbes, wax coating on fruits, conservation tillage etc, because their effects on the environment have not been determined. Organic farming is like a soothing salve on the gaping wound inflicted on the environment by the conventional method of farming. Organic farming is 100% sustainable and the climatic conditions in the Caribbean ensure that it can be done quite comfortably through the year.
Definition
Organic farming is a method of farming, which uses neither artificial fertilizers nor poison sprays. It entails an entire system that must be followed assiduously and requires continuous attention.
Factors to consider when establishing an organic farm
Is the enterprise to be a specialized farm or a mixed farm?
What is the size of the farm?
Is there good infrastructure?
How much water is available?
What is the type of soil?
Is the area endemic to certain pests / diseases?
Is a ready market available?
How easy \ difficult is it to obtain loans?
Is the area prone to larceny \ vandalism of the two- legged pest?
Was a feasibility study done on the comparative advantage of growing one crop, animal or combinations of diverse crops and animals?
Establishment of the farm
An organic farm is based on systematic principals. There is no one method of establishment, but all the various methods fall within the strategy of providing healthy food within a sustainable environment.
Management Principles
Soilmaintenance-The single most, important aspect of an organic farm is the proper maintenance of the soil. This is the medium that supplies the nutrients for the plant growth and development, thus, we have to ensure that erosion is kept to a minimum. This may be a challenging task because tropical soils are highly erodible and most Caribbean farms are situated on steep slopes.
Crop Rotation – A rotation, using 4 crops, namely beans, carrots, cabbage and tomatoes is excellent. Since they are fruit, root and leafy crops they are each use varying amount of N.P.K thus leaving a better balance of nutrients in the soil. The beans add extra nitrogen to the soil. They belong to different families of plants so they tend to be attacked by different types of pest. The rotation will confuse the pest and act as a method of pest control. Other combinations plants can be used.
Compost Production – Compost can be made in 14 days or less. The method involves chopping fine or grinding the compost material so that a greater surface area is exposed to the atmosphere. Keep the composting materials under a covered area. Many small heaps are better than one large heap. Ensure that the heaps are kept moist and turned daily.
Resistant Varieties –Use planting materials that are highly resistant to pest and disease. That will assist in reducing problems from as early as possible.
Organic sprays –These can be made from bamboo leaves, onions, garlic, milk, pepper and neem etc. These sprays are non-toxic in nature.
Repellents from Nature-Observe plants that are not attacked by insects, which are attacking the established crops. Grind those plants and use them as repellants, you will observe that they give good control.
Inter Cropping– Plants release odors that act as repellants to certain insects. (E.g. Lettuce intercropped with cabbage serves to repel attack from the diamond back moth on the cabbage.)
Integrated Pest Management -An I.P.M. is necessary for farmers who want to convert conventional farms to organic farms.
Biological Pest Suppression –this method of control involves the use of growth regulators, parasites, predators and disease. The ladybird beetle (Crytolaemus montrouzieri and Scymnus ooccivora) and the Chinese wasp (Anagyrus kamali) were used effectively against the Hibiscus Mealy Bug (Maconellicoccus hirsutus) this method of control does not damage natural enemies.
Some Benefits of Organic Framing
An organic farm needs neither synthetic sprays nor fertilizers, thus those projected expenses can be used to pay for extra hired help and to buy organic manures.
Organic produce is cleaner, tastier and non-toxic. It has a longer shelf life and it fetches a higher price than conventionally grown produce.
Organic foods are required by many sick people on the recommendation of their doctor who knows that there patients need that type of food to recover from their illness quickly.
When the health of a nation is insured government can save tremendously and channel the extra resources into other projects.
A healthier people indulge in less criminal activity.
There is a growing demand both locally and internationally for organic food so a large market exists.
Soil structure will be improved, ground water pollution will be reduced, the air will become cleaner and natural enemies will abound on the farms.
Organic farming is the only system of farming that is 100% sustainable. The benefits accrued to the conservation and preservation of the environment is truly immeasurable.
Organic foods are good for your organs.
Recommendations
Start small and expand as much as possible. Form co-operatives because your farms are small. There is strength in unity.
You will not make huge profits in the beginning but your gross margins will increase significantly with each production. A large international market exists for organic food and although you. cannot supply the world with food, certainly you can supply food to the world
TRAINING IN ORGANIC AGRICULTURE for farmers in St. Kitts and Nevis
Definition
Organic Agriculture is a holistic (all embracing) production management system which promotes and enhances agricultural ecosystem health, including biological diversity, biological cycles and soil biological activity. This is accomplished by using where possible, agronomic, biological and mechanical methods, as opposed to using synthetic materials.
Basic Principles of Organic Agriculture
Manage the soil
Feed the soil, so it can feed the plants.
Keep the physical, chemical and biological balance
Each harvest cycle depletes soil fertility; therefore, nutrients have to be added to the soil.
Organic Fertilizers
Compost
Green Manure
Decomposed animal manure
Fermented Manure (Bocashi)
Liquid Fertilizer (compost tea, manure tea)
Vermi compost (Fertilizer made from California red worm)
How to protect the soil
Use cover crops
Mulch (natural)
Wind break
Dead barrier
Live barrier
Wooden fences
Planted post
Compost
Contours
Terraces
Minimum tillage
Application of fertilizer
Advantages
Host plant for beneficial insects
Increase the biological diversity
Increase in natural enemies
Use a variety of techniques to control pest
Phytosanitary control
Cultural control
Legal control
Mechanical control
Physical control
Etological control (The use of pheromones, sticky traps)
Hydraulic control
Nutritional balance
Microflora and microfauna of the soil (worms, bacteria, fungi, algae, protozoa, nematodes, micorizas)
Phytogenetic control (use varieties that are adapted to organic agriculture)
Biological control (predators of eggs, nymphs, larva, pupa and adults, parasites of eggs, entomopatogenic organisms (produce toxins) such as nematodes, bacteria, virus, fungi
Vegetables oils example citrus oil
Plant extracts example neem, bay rum leaves