Comments Off

on ORCHID CULTURE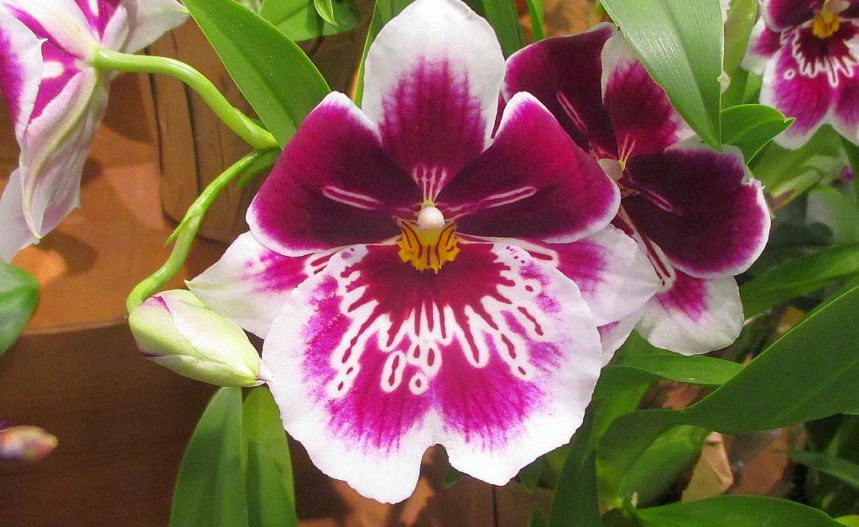 PROPAGATION (Dendrobium)
Use sterile secateurs to divide the orchid at the point where the canes are joined. (leave canes <12'' joined in pairs,> 12'' can be individual)
Dip the cut surfaces in MANZATE dip 2 tsp/1L water. Leave to dry and harden for approximately 24 hours with no water.
Place horizontally under 50% shade and water as frequently as possible to encourage shoot growth.
Fertilize with high nitrogen NUTREX 30:10:10 at 1 tbs\gal until shots emerge.
PLANTING
MEDIA:
Media must have high water-holding capacity
Free drainage
Easily accessible
E.g. – coconuts husk, coconut fibre and charcoal have been used successfully in commercial enterprises.
Plant the orchid so that the new shoot just rests on the top of the media. Stake if necessary. Make sure that the plant is upright. Space as close together as possible until plants have achieved 6''- provide 65% shade.
Commercial production – use spacing of 2-3 plants per foot, depending on medium used (coconut husk or pot with charcoal).
WATER
Water between 6-10 am and 3-5 p.m. Moisture is dependent on media, but as a general rule, soak in the morning and allow to dry out during the day. Only rewet if completely dry in the afternoon, or else re-wet again in the morning.
SHADE : Dendrodium orchid require 50% sun/shade for optimum production.
HUMIDITY : A relative humidity of about 75% is adequate.
FERTILIZER
Orchids respond well to fertilizer. OSMOCOTE 14:14:14 can be used in pot, supplemented with foliar applications of Nutrex 30:10:10, Pokon 15:20:25, Nutrex 20:20:20: in the growing stage. For flowering plants use Nutrex 10:30:20 Peter 10:30:20, Pokon 15:20:25.
PESTS
The main pest is Thrips palmi– FASTAC & ADMIRAL, followed by VYDATE-L & ADMIRAL.
Snails & Slugs- VYDATE-L, or SLUG & SNAIL BAIT.
DISEASES
Cercospora Leaf spot- DACONIL, SAPROL, MANZATE.
Curvularia Flower spot- SAPROL, MANZATE
Rusts- MANZATE, DACONIL, SAPROL.
Brown basal rot (Basidiomycites spp) – BANROT.
Soft rot (bacterial) – field sanitation, moisture reduction, increased air circulation rogue infected plants.
HARVEST
Cut when 50% bloom open to flowers.
Dip in insecticide solution containing FASTAC to remove Thrips.