Comments Off

on ONION PRODUCTION TIPS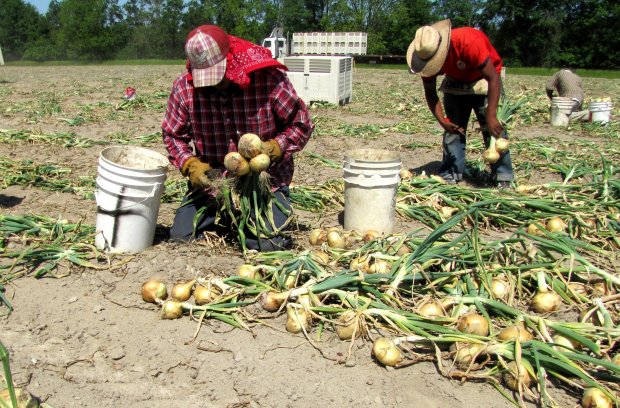 1. CROP ESTABLISHMENT
Onions grown under rain fed conditions may be planted during the period September to December. Irrigation can extend the planting period from January to August. Use varieties that store well such as Grand Stand (H7), H60 and Mercedes.
2. LAND PREPARATION
Site selection is very critical in onion production. A level site which is not prone to water logging or erosion is most suitable. Fields to be planted in onions should be relatively free from weeds particularly nut grass and other perennial weeds. The beds should have fine tilth to aid in planting and seed germination. The beds should be at least 6 inches (15cm) high to allow for good root development and good drainage both in the bed and between the beds.
3. SEED RATE
The number of rows on each bed depends in its width. The recommended space between rows is 8-10 inches (20-25cm) and the number of rows on a 5 feet (1.5m) bank is, therefore, five or six. About 6-7 kg (13-15.5 lbs.) of onions seeds are required to direct seed one hectare (2.5ac). Seedling are also used by many small scale growers.
4. FERTILIZER
Where only compound fertilizers are available, incorporate 250kg\ha (220 lbs.\ac) of 15:15:15 in the beds before final land preparation. Four to six weeks after germination apply NPK at 250 kg\ha (220 lbs.\ac). Apply Sulphate of Ammonia at 130 kg\ha (115 lbs\ac) at 10 weeks after germination.
5.WEEDS CONTROL
A pre- emergent herbicide Prefar 4E at 150-180mls\gallon can be applied up to 5-6 days after sowing but before seedling emerge. The soil should be wet for Prefar to be effective. If weeds have already emerged, Gramaxone or reglone should be added. Prowl at 30-45 mls\gallon can be applied at one leaf stage or later. Prowl is pre-emergent for weeds but post-emergent for onion. The crop should, therefore, be established but be weed free.
Goal can be applied as a post emergence to weeds at a rate of 10-20 mls\gallon.
Goal should be applied at the three-leaf stage or later in bright sunshine. Fusilade at 15-30 mls\gallon or Nabu (20mls\gallon) can also be applied for the control grass weeds. The stale seedbed technique can also be employed in the management of weeds. With this method the use of non-selective herbicide such as Gramaxone or Round up Ultra is used to kill emerged weeds before planting the crop.
6. PEST CONTORL AND DISEASE CONTROL
Caterpillars -Decis 3-5ml\gal, Karate 5-7.5ml\gal, New Mectin 5ml\4gal
Leaf miners New Mectin 5ml\gal, Cure 5ml\gal
Onion thrips Diazinon 10-15ml\gal
Always use Ph. Plus or a spreader sticker with the insecticide
The main disease are pre and post emergence damping off, downy mildew and blast.
use Manzate or Mankocide at 1tbs per gallon of water
7. HARVESTING
Stop irrigation 3 – 4 weeks before harvesting. Harvesting can begin when at least half of the tops in the field have fallen over. After harvest, the bulbs with tops attached should be laid in one layer on the beds in the field to dry. If you have to dry onion indoors in racks, leave a 1 inch neck on the onion.