Comments Off

on NUTRITION AND FEEDING OF SHEEP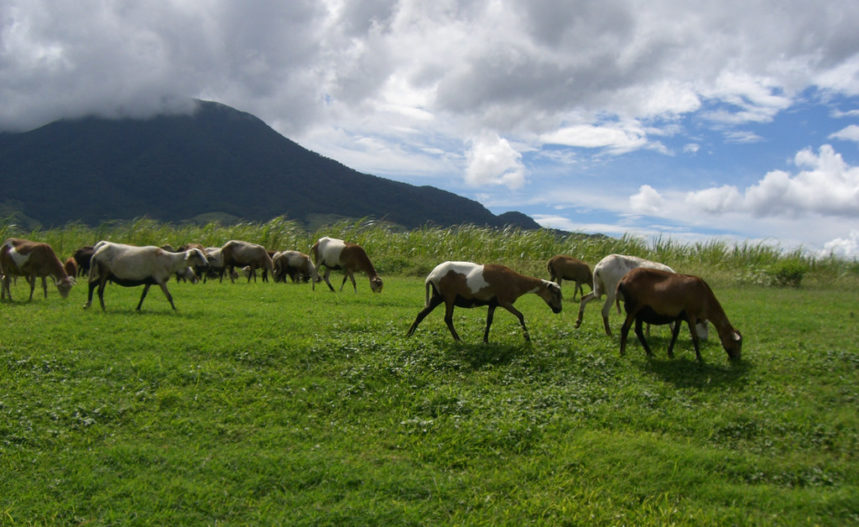 One of the most important aspects of sheep production is following a good feeding programme. Improper nutrition results in lower production and sluggish animals. The nutrients required for healthy animals are: carbohydrates, protein, water, minerals and vitamins.
Fresh, clean water must be supplied regularly. Protein and carbohydrates (energy food) can be supplied in concentrated form along with local feedstuffs, such as dried citrus pulp and molasses. Although concentrates are important in supplementary feeding to increase production, good pastures are the most economic ingredient in the sheep's ration.
Salt (sodium) should be fed loose to avoid teeth damage. Sodium is necessary for the acid base balance of the animal. Calcium and phosphorus are important for bone structure. Most minerals are available in commercial mixes and vitamins can be given by injection.
FEEDING
The greatest output from sheep can be obtained by making best use of:
The grass produced per unit of land
The amount of concentrate feed used to complement forage
The efficiency with which feeds are converted into salable end-products (meat and skin)
The farmer, therefore, has to combine these three factors into an economic feeding system for maximum profit. Improved nutrition can increase ewe productivity at mating, during pregnancy and after lambing.
FEEDING EWES AT MATING
Ewes in poor condition at mating show a high incidence of infertility and poor ovulation rates. In addition, fewer lambs are produced. However, ewes which are too fat have low conception rates. Therefore, examine the ewe four weeks before breeding to decide on the feeding management for best body condition.
Non-lactating ewes should graze pastures full-time, four to six weeks before breeding. Two weeks before breeding, feed ewes 0.225 – 0.45 kg (0.5 – 1.0 lb.) concentrate per head per day. Ewes which have suckled their lambs well, particularly twin lambs, need increased feeding to recover their condition. Methods of improving weight include moving the animals to fresh pasture; reducing stocking rates (less animals per unit land); or supplementary feeding of concentrates at 0.2-0.45 kg (0.44-1.0 lb.) per day when good pasture is scarce.
FEEDING EWES AFTER MATING
It is important to keep ewes well fed after mating to allow embryo survival. However, excessive feeding could also harm the embryo. If the ewe is young she should gain no more than five percent of her body weight in the second and third months of pregnancy.
Ewes can be fed: 1.5-2.0 kg (3.3-4.4 lb.) quality hay; or 5.0-6.0 kg (11.1-13.3 lb.) good quality silage; or 7-10 kg (15.5-22.2 lb.) roots per day during the first 14 weeks of pregnancy. Ewes carrying twins or triplets would be thinner than those carrying one lamb, so they should be given extra feed.
About 70 percent of fetal growth occurs in the last six weeks of pregnancy, so ewes need more feed then. Energy is important as are vitamins A, D and E; and minerals- notably calcium, phosphorus and magnesium. Loss of body reserves by under-feeding could result in low lamb birth weights, weak lambs, and reduced milk yield and quality. Mature ewes carrying a single lamb increase their body weight by 10 percent and those with twins by 18 percent.
Crude protein should be 12 to 14 percent of the ration. Feed concentrates in the last six weeks of pregnancy and reduce the level of roughages in the last two weeks of pregnancy increases the volume of colostrum produced.
Energy requirement are also very important at this time.
FEEDING AFTER LAMBING
Nutritional requirements increase with lactation and the lamb's growth is linked to the ewe's milk yield. A very good guide to the milking ability of the ewe is the lamb's weight at six weeks of age- approximately 9 kg (20 lbs.).
In early lactation, feed ewes a relative high level up to 1.5 kg (3.3 lbs.) concentrate per day in addition to roughage. Energy requirements vary depending on the number of lambs the ewes are suckling. Under-feeding at this time may reduce the ewe's milk yield by 10 to 30 percent. If grass or fodder is available, concentrates can be reduced. Feed concentrates at 0.5-1.0 kg (1.1-2.2 lb.) per ewe per day for about four to six weeks after lambing
The milk yield of a ewe suckling twins is higher than that of a ewe suckling one lamb, but milk intake of a twin lamb is about 70 percent that of a single lamb. Therefore, ewes with twins should be given a higher plane of nutrition to attain maximum lamb performance.
Supply sheep with the best hay available, but if quality varies, feed the better hay during the latter part of pregnancy, when appetite is restricted. Each ewe requires 20-15 cm (8-10 ins.) hay-rack space and 37.5 – 45 cm (15-18 inches) trough space. Place troughs in a straight line and fill them as quickly as possible to minimize ewes pushing and injuring themselves. Clean water must always be available since ewes drink about 6.5-9.0 L (1.4-2.0 gals.) per day. Regular exercise is also important in reducing the risk of stomach upsets.
FEEDING WEANED LAMBS
Weaned lambs should graze pastures fulltime. This should be supplemented with about 0.225 kg (0.5 lb.) per head per day of good dairy ration or sheep ration. If grazing is not practiced full-time, then grass and concentrate should be given when animals are brought indoors.
Male lambs intended for market should be castrated early. Since fattening lambs on grass alone is a slow process, feed them about 0.225 kg (0.5 lb.) per head per day.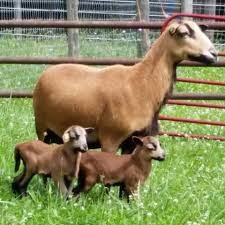 GRAZING SYSTEMS
The best nutritional quality herbage is young, highly digestible grass. To obtain this, graze pastures often. Mature grass is unfavorable since it has high fibre content and lower digestibility.
For best results the following factors are important:
The grazing management system adopted
The maintenance of grass growth
Grazing management systems include: Rotational systems (strip and paddock grazing), and Set-stocking or open grazing with continuous access.
Strip grazing is most common where sheep graze pasture sections alternatively. Each strip is barred with electric wire fencing which can be moved to keep the animals within their grazing area. Paddock grazing is similar, but the fences are more permanent, e.g. hedges.
In set-stocking, sheep graze in larger fields for longer periods (week rather than days). Advantages of this system are: simplicity, less labour and reduced stress on the herd, which is more contented than those rotated frequently.
All grazing systems give good results if well managed. The system selected depends on personal choice and managerial convenience. Farm layout and the farmer's time greatly influence the final choice.