Comments Off

on Nursery Care for Papaya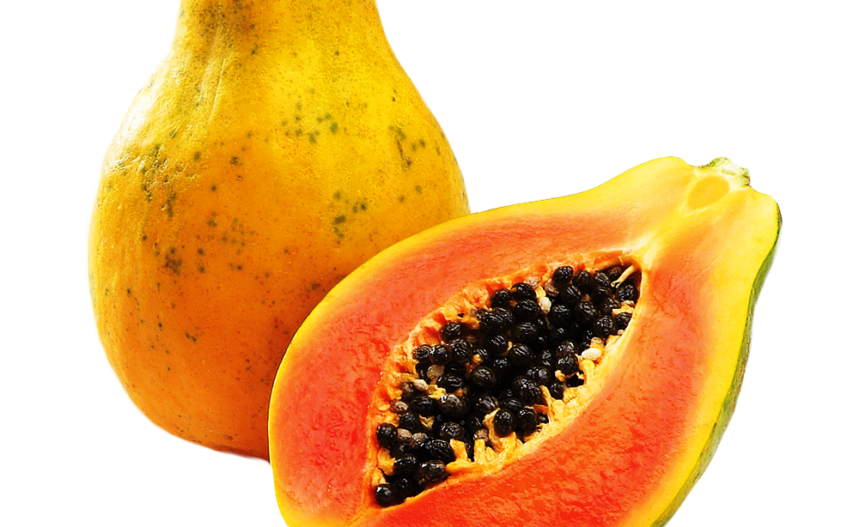 SELECT CULTIVARS FOR INTENDED MARKET
Local market:-medium to small fruit size.
Foreign market:-small fruits
Always use hybrid varieties to ensure true to type high yielding trees.
Sow seeds in seeding trays with 3inch x 3inch cells in disease free planting medium such as Pro-Mix or sterilized soil / manure mixes.
Seeds germinate in 8 – 15 days NB. Papaya can be pre-germinated.
Transplant into 4 inch x 6 inch plastic bags when seedlings are 4"-5" tail.
DISEASE CONTROL
Damping off complex :Phytopthora, Pythium, Rhizoctonia, Fusarium (Soil Drench)
USE – PHYTHON 27
RATES/4.5LTS-10mls/2tsp per gallon
INSECT CONTROL
Caterpillars, aphids, beetles, scales
USE-DECIS
RATES/4.5LTS-5mls/1tsp per gallon
FERTILIZER
(starter)
USE-20:20:20
RATES/4.5LTS-1tsp/4.5lts/gallon twice weekly
SITE SELECTION
Select well drained soils. Avoid areas prone to waterlogging. Plant on cumbered beds in heavy clay soil.
Plant seedlings in full sunlight. Papaya does not tolerate shade.
FIELD TRANSPLANTING
Always select healthy, vigorous seedlings with strong, erect stems. Do not use plants with roots emerging from the container or plastic bag.
Select seedling 30 cm /12 inches in height approximately 12 weeks old.
The planting hole should be at least twice the width and height of the plastic bag / container in which the seedling was growing.
Mix well discomposed manure with 30 g /1oz of 15:15:15 and place into the planting hole. Set the seedling in the hole ensuring that the level of the soil in the bag is slightly above the surface of the soil in which it is planted. Don't forget to remove the plastic bag.
Maintain a weed free area of one meter or three feet around the seedling.
DISEASE CONTROL
Damping off complex Phytopthora, Pythium, Rhizoctonia, Fusarium)(Soil Drench)
Anthracnose
Powdery Mildew
USE-Phyton 27
RATES/4.5LTS/2tsp/gallon weekly
INSECT CONTROL
Mites, Aphids White-flies, Scales Caterpillars, Leaf Hoppers
USE-NEEMAX
RATES/4.5lts-10mls
The papaya leaf hopper adult is pale green in colour, wedge shaped and 3-3.5mm in size. It is the vector of the mycoplasma-like organism (MLO) which causes BUNCHY TOP DISEASE. Regular field Inspections and spraying with recommended insecticides is critical for control.
For most effectiveness apply insecticides and fungicides with a knap-sack sprayer or a mist blower set at lowest speed. CALIBRATION of equipment is also essential.
The leaves and fruits of Papaya are smooth and waxy and spray liquids run off very rapidly, so use a spreader at the recommended rates. This enhances the effectiveness of the chemical used during dry or rainy conditions.