Comments Off

on Major Insect Pests Of Avocados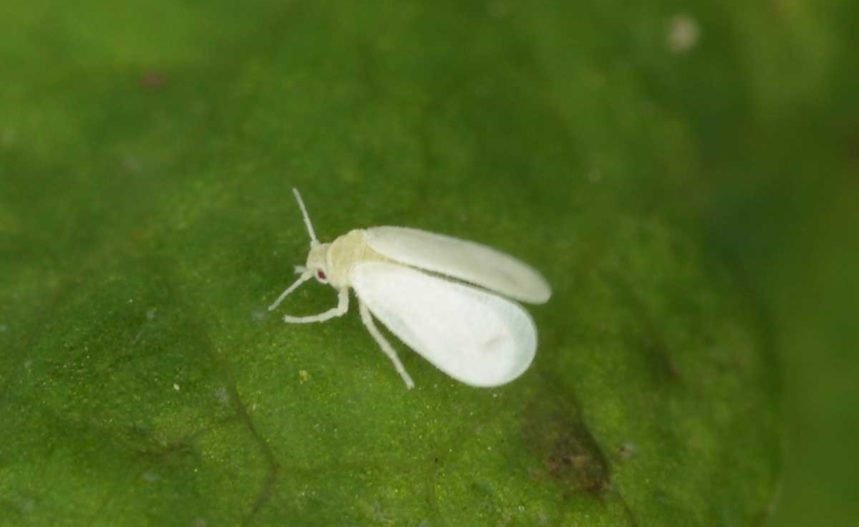 AVOCADO is a host to many insects' pests. In most cases, these insects are not a major constraint in production. However at times, you may need to exercise some control measures. The insect pests that sometimes cause injury to avocado Orchards in the Caribbean are: Scale Insects, White Flies, Thrips, Moths, Termites and Slugs.
SCALE INSECTS
Like most tropical fruits, avocados are attacked by a wide range of scale insects, both the hard or armoured scales and the soft or unarmoured scales. Below is a description of those which are most common and of concern to us. Though these insects are seldom devastating, some trees may be severely attacked resulting in the falling leaves and dried branches.
DESCRIPTIN OF INSECTS AND SYMPTOMS
Armoured or Hard Scales
Greedy Scale (Hemiberlesia rapax). This is a common specie, not only to avocados, but also citrus and other ornamental trees and scrubs. It tends to be more troublesome in certain areas. It is light grey in colour. The female's scale covering curves upwards and has a yellow-brown nipple.
Oleander Scale (Melanaspis obscura). This insects encrusts the plant leaves. The scale covering is usually circular, the female being light buff with a tinge of purple and about three times the size of the large white males.
California Red Scale (Aoneidiella aurantii). The Red Scale spp. is one of the larger scales. The female is sometimes 3 mm in diameter, the males being smaller and oval in shape. The circular shaped females are red, the colour showing through the scale covering. They feed on all parts of the plants, but are most numerous on the foliage, fruits and younger branches. While feeding, a salivary secretion is injected into the plant which seems to produce a toxic effect on the plant.
Dictyospermum Scale (Chrysomphalus dictyospermi). This specie has a wide distribution, attacking citrus as well as avocados. The scale covering varies from yellow-brown to deep brown for immature insects, while adults vary from shades of grey to brown. All are yellow beneath the scale. The female's covering is circular, while the male is smaller and more oval shaped.
CONTROL
Scales are not always a problem as they are naturally kept under control by parasites and predators, such as lady bird beetles and certain species of fly wasp larvae. If the situation gets out of hand, then chemical control is recommended, using insecticides such as Basudin (1 tbsp./gal., 15cc/L of water and Lannate (2 tsp./gal., 10cc/L of water). To get the best result, apply when you start seeing larvae on the plants.
WHITE FLIES
There are at least four species of white flies that attack avocado plants, the most common and serious being the Trialeurodes floridensis.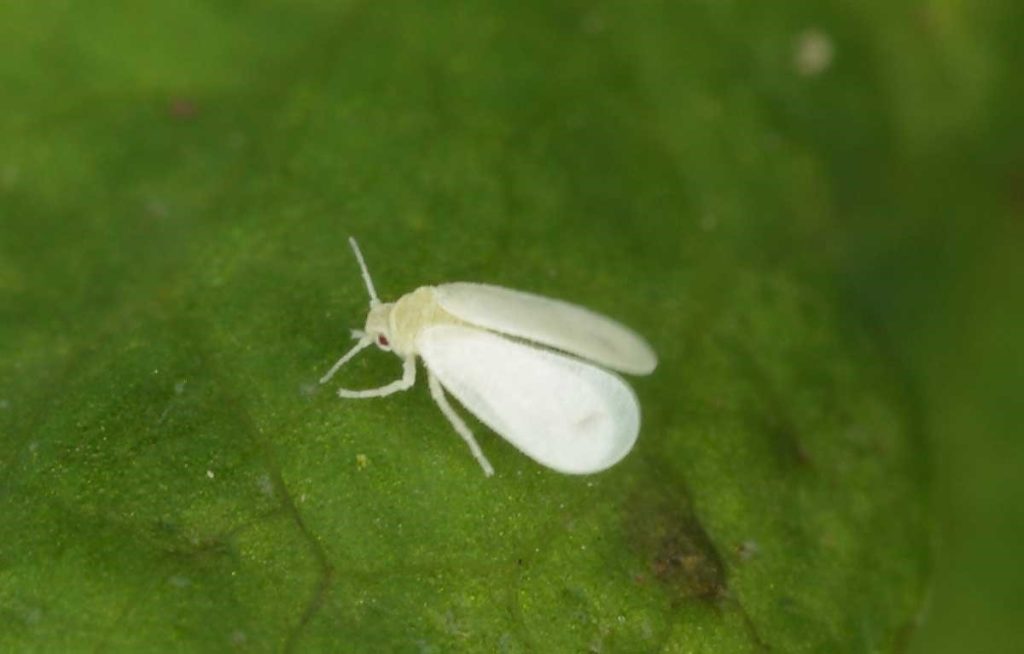 DESCRIPTION OF INSECT AND SYMPTOMS
White flies are widely distributed, and attack the plant in both the immature and adult stages, by sucking plant juices from the under leaf surface. Heavy feeding cause leaf spotting. Affected leaves later turn yellow and die. Young nursery plants are particularly susceptible to those insects. White flies also secrete a "honey dew," which encourages the growth of sooty mould on the leaf surface. White flies are tiny insects with milk white wings, legs and antennae. The body is pale yellow. They are covered with a white waxy powder. When at rest the four broad wings are held roof-like over the body. They belong to the family Aleyrodidae.
CONTROL:
Natural control results from lace-wing and lady bird beetles feeding on the white flies. Certain species of fungi also attack white flies and help in controlling them. Chemical control involves using various organophosphate sprays such as Malathion to the underside of leaves.
THRIPS (Thysanoptera, Thripidae)
Thrips are the most serious sucking insects which attack the avocado plant in the Caribbean. The most dangerous are:
Red-banded Thrips (Selonothrips rubrocinctus)
Green house Thrips (Heliothrips haemorrhoidalis).
Onion Thrips (Thrips tabacci).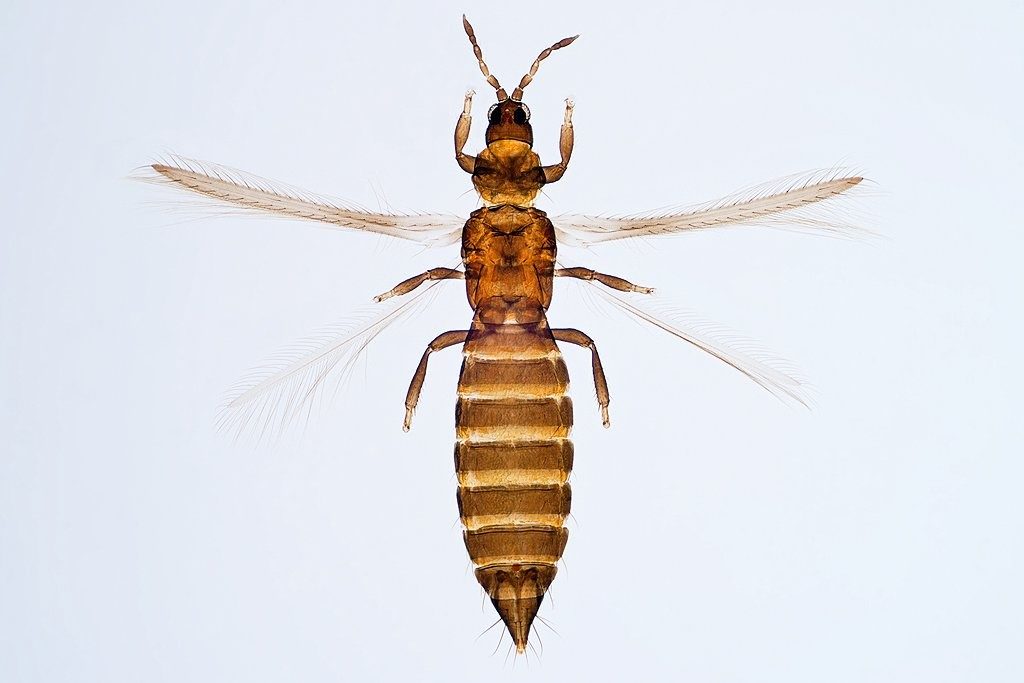 DESCRIPTION OF INSECTS AND SYMPTOMS
Thrips are small-to-minute slender insects. Both wingless and winged individuals are found. Some have two pairs of very narrow and feathered wings with long hairs. They are generally less than 2mm in length, with tan-to-dark brown bodies. Nymphs are creamy white and wingless.
Plant injury is caused by both nymphs and adults scraping the bud, flower and leaf tissues and sucking the oozing sap. This causes distorted and discoloured flowers and buds as well as gray or silver speckled areas on leaves. Bronzing of leaves also occurs, and in cases of severe infestation, leaf fall occurs. Direct feeding on the fruit is even more critical. The skin of the fruits become bronze and cracks when infestation is heavy. The cracking allows entry of secondary pests and pathogens, and the discolouration of the skin makes the fruit unmarketable.
CONTROL:
Some degree of natural control occurs when lady bird beetles, mites, spiders and other species. of Thrips feed on those that attack the avocado plant. Pesticide application is sometimes necessary two to three times at seven to 10 day intervals. Those generally recommended are: Lannate (1-2 tsp./gal., 5-10cc/L of water); Malathion (1 tbsp./gal., 15cc/L of water); Sevin (2 tbsp./gal., 30cc/L of water); Surecide (2 tbsp./gal., 30cc/L of water).
COMMON SLUG (Veronicella laevis) Under wet conditions the Common Slug may pose a problem to your avocado plants. They can become a serious pest in area where high rainfall conditions exist, throughout most of the year.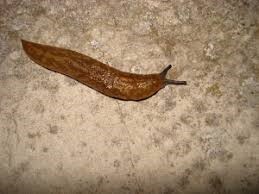 DESCRIPTION OF THE PESTS AND SYMPTOMS
All slugs are similar in appearance, but vary in coloration and length, depending on the species. Slugs are capable of defoliating young avocado plants, debarking older ones and killing both young and old. Careful examination will recognize the first signs of infestation, as they leave a silvery trail of mucus on the surface on which they crawl.
CONTROL:
Pigs and certain species. of beetles and birds feed on the slugs, giving some measure of natural biological control. Metaldehyde either as a bait or as a 15 percent dust placed where the slugs crawl, has widely been used. Dieldrin 4 tbsp. /gal. or 60cc/L of water is also recommended.
TERMITES (Isoptera)
Termites are a small group of chewing insects, many of which live in colonies. Older avocados trees are very prone to attack by termites, the two most common species being Microcerotermes aboreus and Nasutitermes aboreus.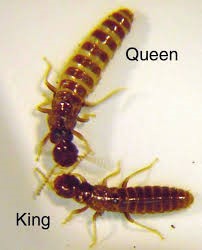 DESCRIPTION
Termites feed on cellulose obtained from wood and other plant tissues. They damage the root of the avocado plant and the internal plant tissues, causing rapid decline in plant growth and vigour. The avocado tree eventually dies. The first noticeable symptoms of termites attack is the sudden curling and drying of the leaves. Covered tunnels are also seen running up the tree trunk and spreading along the major branches. If fruits are represent, those also dry rapidly and fall. Once this starts happening, control is very difficult.
CONTROL:
To control termites you need to treat the soil around the infected tree. Chlordane (3 tbsp./gal., 45cc/L of water) and Heptachlor (6 tbsp./gal., 90cc/L of water) is recommended.
Caution: Chemicals can be dangerous! Always follow the label directions
MOTH (Xyleutes punctifer)
Moth and other chewing insects are less of a bother than the other insect pests of avocados. However, within the last two years Barbados has experienced a problem with the moth Xyleutes punctifer, whose larvae bore into the stem of the avocado plant. To date there are no known tested methods of moth control in the Caribbean.