Comments Off

on Home Composing
Home composting as the name implies is composting done in your own backyard. It is a specialized from of recycling organic materials such as kitchen scraps and yard waste. Composting is organized rotting where nutrients and moisture is returned to the soil. Rotting is accomplished by microbes, fungi and other organisms digesting the decaying material and converting it into a soil-rich conditioner or compost.
Composting can be passive or active. Passive composting does not involve turning of the compost heap, it must however be kept equally as moist as the active method. Active composting entails much more tending to the compost heap than passive composting. Tending includes periodic turning of the compost pile.
Why Composting
Upon completion of the process the resultant compost is a useful and valuable product. Compost is one of the best sources of organic soil conditioner as it improves both aeration and nutrient content of the soil.
For sandy soils, compost helps to hold water and nutrients better.
For clay soils, compost improves internal drainage, making it easier to work with the soil.
Acts as plants fertilizer thus improves yields.
Landfill space is saved because waste is diverted.
Can everything be composted?
Things that are biodegradable can be composted because their molecular structure allows them to decompose rapidly.
Substances such as food scraps, paper, branches of trees, wood and sawdust are readily composted. The decomposition of some other organic substances is toxic to the environment and thus limits what can be composted.
Recommended Compostable Items Includes:-
Grains (dry)
Vegetables and fruits scraps
Kitchen scraps excluding meats, chicken bones or skin, fish, fats, greasy foods, cheese etc.
Bread
Fruit rinds and peels
Tea bags
Coffee grounds
Sawdust
Paper
Non-compostable Items Includes:
Plastic
Glass
Aluminum
Metals
Getting Started
To start composting actively or passively commence with a layer of dampened carbon rich waste obtained from shredded paper, cardboard or dry leaves and add a thin layer of compost. Then add dampened nitrogen rich waste obtained from fresh farm animal manure, grass clippings or if necessary sulphate of ammonia or urea. Continue to add waste in alternating layer of carbon and nitrogen rich products for best results. Note that each layer should be no thicker than six inches.
Maintaining your compost
Utilizing the active method, turn and water the compost heap once a week. Under the passive method simply wet once a week. All passive compost bins should have a trap door at the bottom, to access the finished compost as the finished compost is always at the bottom of the bin.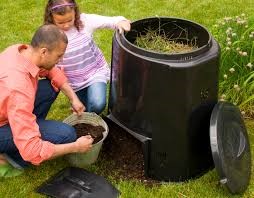 When is compost ready?
Finished compost is black in color and has an earthy smell. It is the same temperature as the soil. It may need sieving because all things placed in the composter may not decompose totally in the same timeframe.