Comments Off

on Ginger Lilies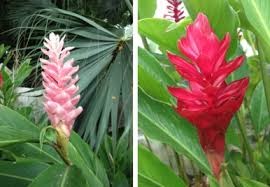 Description:
These plants belong to the ginger family. They possess rhizomes, from which leafy unbranched shoots which form a false stem emerge.The inflorescence may be terminal from the leafy shoot or separate from its base or from the rhizome.
Varieties:
Two colours are grown for expert at present:
The Red Ginger (2). The Pink Ginger
Types of Red Ginger:
The local or Tahitian Ginger
Jungle King, a compact form of the Red Ginger developed in Hawaii
Types of Pink Ginger:
Eileen Mc Donald (2) Pink Princess (3)Jungle Queen
The first two are darker pink in colour and the influences are larger than the letter. The vase life of Jungle Queen is less than one week.
Condition for Growth:
Ginger Lilies are grown on a wide range of soil types with high organic matter content. pH 4.5-6.5 is best. Soil must be well drained as plants do not withstand waterlogging for long periods. Overhead sprinkler irrigation and some shade seem to result in better quality flower especially in Pink Ginger in the dry season.
Mulching:
To retain soil moisture in the dry season and to control weeds, plant windbreaks such as mango, pommerac or tall ornamental shrubs to prevent damage to the plants.
Pre-planting:
First prepare planting material which are of two types:
Plantlets from old blooms
Rhizomes from mature clumps
Place plantlets directly into medium of coconut fibre and coarse sand in area to be propagated, then to black bags with growing medium of 5:2:3 parts soil; coarse sand and coconut fibre .
Keep for 4-6 months before transplanting to the field. Plant rhizomes into propagation area or directly into the field.
Fertilize using Nutrex 20:20:20 twice per month. Irrigate daily; spray with fungicide, Benlate and insecticide Malathion at recommended rates every 10-14 days for pest and disease control.
Planting:
Plant at the beginning of the rainy season. Ploughing land area, rotavate and add organic matter 2,500 kg/ha.Space plants 6ft apart in furrows between rows and 3 ft apart within the rows using 2,000 plants/acre. Plants may have 6-10 stems per clump.
Fertilizer:
Applying 12:12:17:2 fertilizer at rate of 3,300 kg/ha/annum about one month after planting, that is at a rate of 28 grams per plant every fortnight.
Pruning:
Prune old weak stems from plant base so as to result in more vigorous growth of plants and formation of longer flower stems.
Irrigation:
Ginger Lilies strive best under moist conditions. Drip irrigation provides efficient water use. Overhead sprinkler is better for Pink Ginger Lilies. Approximately 20,000 gals/acre/week is required in the dry season.
Weed Control:
Hand weed around plant base. Use herbicides such as Round-up or Gramoxone at recommended rates to control weed growth between rows.
Pest and Disease Control
Maintain a routine pest and disease control schedule every 10-14 days. Alternate sprays of a fungicide Phyton 27 or Kocide and an insecticide such as Caprid or Sevin for general control.
| | |
| --- | --- |
| Pest | Control |
| Scale insects | Caprid |
| Root Mealy Bug | Caprid |
| Caterpillars | Sevin |
| Ants | Sevin or Diazinon |
| Nematodes | Vydate, Vertimec |
| Thrips | Pirate |
| Disease | Control |
| Leaf Spot | Phyton 27 |
Yields:
Flower production occurs 9 – 12 months after field planting.
Approximately 2000flowers/ ha / week can be harvested during the first year. After that yields can be raised to 4800 flowers/ ha / week