Comments Off

on Cucumber Production Tips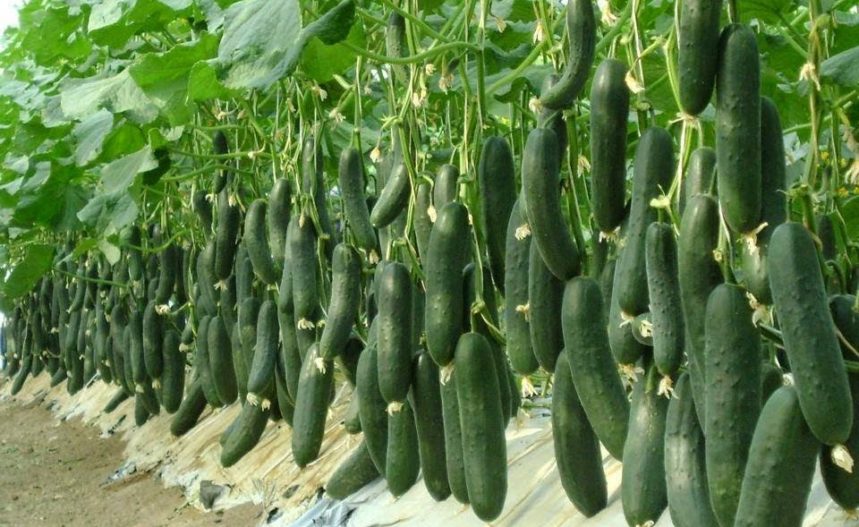 Seedling production
Seeds can be sown directly in the field and covered with cups until germination. Speedling trays can also be used and seedlings transplanted into a prepared field. Water with foliar fertilizer when trays are used for seedling production.
Land Preparation and Weed Control
Harrow land to a medium to fine tilth. The field should be clean and free of weeds. Before transplanting seedlings use Gramoxone to control any young weeds that may be in the field. For mature weeds use Roundup ultra at the recommended rate of 30 – 45 ml/gal. Pre-emergent herbicides e.g. Prowl can be used to control weeds. It should be applied before transplanting but after the land has been prepared. Prowl works best when the area to be sprayed is moist. Grasses in the field can be controlled by using Fusilade at a rate of 15 – 30 mls per gallon of water or Nabu at a rate of 20 ml per gallon of water. Use a spreader sticker. This chemical needs about two hours of sunshine after spraying to be effective.
Planting
Seedlings can be transplanted at 2 – 3 weeks after germination. Use a spacing of 3ft by 3ft, planting one plant per hole.
Fertilizer
Apply NPK one week after transplanting using a rate of 1oz per hole (300 – 400 lbs /acre). A side dressing of sulphate at fruit set at a rate of ½ oz per plant (150 – 200 lbs /acre) should also be applied.
Insect and Disease control
Melon worm is one of the major pests to attack cucumbers. It is quite easy to control if the recommended chemicals are used. Melon worms are mostly found in the whorl of young leaves at the end of the vine. Thrips are predominant in the dry season and until recently were very difficult to control.
| | |
| --- | --- |
| Insects | Chemical control |
| Leaf miner, melon worms, Aphids | New Mectin 5 mls per gal Karate 5-7 mls per gal Decis 3-5 mls per gal water |
| Thrips | M Pede 45 mls/gal Attack 3-5 mls/gal |
| White Flies | Applaud ½ to 1 tbps/gal Attack 3-5 mls/gal |
Always use a spreader sticker or PH Plus when spraying insecticides
Apply spray by thoroughly wetting the stems, buds as well as the undersides and tops of the leaves.
Common diseases of cucumbers are Downy and Powdery Mildew. A spraying programme of Manzate at 1tbsps/gallon of water and Benlate ate ½ to 1 tsp/gallon of water can be adopted to control these disease. Phython and Mankocide could also be used at a rate of 1-2 tbs/gallon of water.
Harvesting
Fruits are ready for harvesting about six (6) weeks after transplanting. Fruits are dark green, uniform, smooth and firm. The market usually determines the size at which the fruits are harvested. Harvesting should be regular (2 – 3 times per week) so that fruits do not become over mature. Fruits should be removed from the field immediately after harvesting.
| | | | |
| --- | --- | --- | --- |
| Variety | Days to harvest | Harvest period (weeks) | Yield ('000 lbs/ac) |
| Super Poinsett | 50 | 3 – 4 | 10 – 12 |
| Dasher ll | 40 | 3 – 4 | 13 – 15 |
| Tropicuke | 40 | 3 – 4 | 13 – 15 |