Comments Off

on Coconut Fact Sheet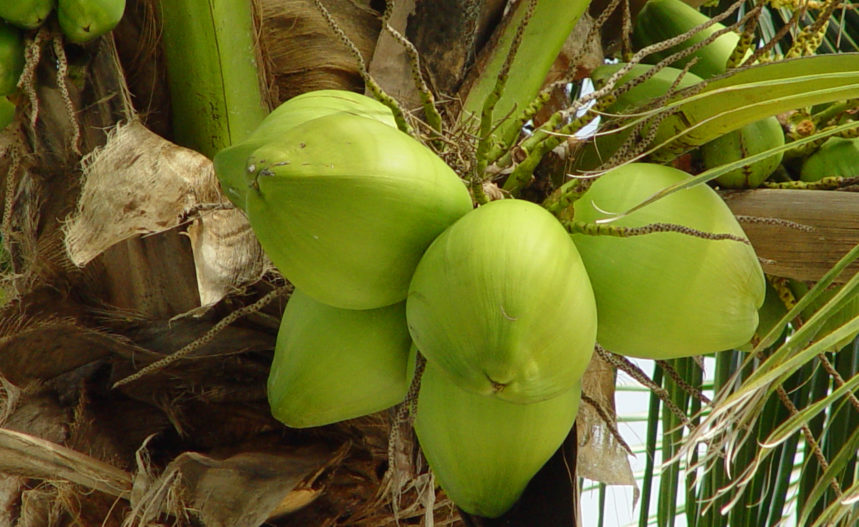 Scientific name: Cocos nucifera
Generally information:
Coconut (Cocos nucifera) is a large palm, growing up to 30m (98ft) tall. Coconuts are generally classified into two general types: tall and dwarf. On very fertile land, a tall coconut palm tree can yield up to 75 fruits per year, but more often yields less than 30, mainly due to poor cultural practices. Given proper care and growing conditions coconut palms produce their first fruit in six to ten years; it takes 15-20 years to reach peak production.
Agronomic practices
*Select an area that receives full sunlight and is large enough for the palm to grow.
*Spacing should be twenty (20) feet between each plant.
*Do not plant palm where it can interfere with power lines or structures.
*Remove any weeds or grass from the area
*Keep the area weed-and grass free once the palm is planted and growing.
*Plant in sandy soil that drains well.
*Water well after planting. Stomp on the soil to remove any air pockets that may remain in it.
*Place mulch around the base of the palm to help the soil retain moisture.
*Water the newly planted coconut palm twice a week for the first 3 weeks. Continue watering at a rate of once a week for the next several months. Coconuts palm drought tolerant; once established, you can cut back on watering to once every two weeks.
*Fertilize four times per year with N.P.K 15:15:15, using 1 – 3 lbs per application
*Prune off the fronds as they begin to turn brown and die.
Diseases
Coconut are susceptible to the phyoplasma disease called lethal yellowing. One recently selected cultivar, the Maypan, has been bred for resistance to this disease.
Pest
Larvae of many Lepidoptera (butterfly and moth) species such as Brontispa Longissa(coconut leaf beetle)feeds on young laves, and damages both seedlings and mature coconut palms.
The fruit may also be damaged by eriopyid coconut mites (Eriophyes guerreronis). This mite infests coconut plantations, and is devastating: it can destroy up to 90% of coconut production. Spraying with wettable sulfur 0.4% or with neem-based pesticides can give some relief.