Comments Off

on Care of Young Fruit Trees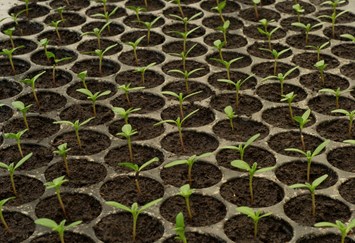 It is very important to adequately care for young trees if they are to bear and provide you with fresh fruits. On buying the fruit tree from the Plant Propagation Nursery, there are certain things that must be kept in mind:
Young fruit trees need some time to acclimatize to its new outdoor surroundings.
Give the plant lots of water about 1 gallon in the morning and 1 gallon in the evenings.
Stake the plants if necessary. This helps to prevent breakage of the grafted area.
Fertilizer (N.P.K) or decomposed pen manure can be applied on planting, mixing it with the soil and then incorporating it in the hole with the plant.
If you are planting more than one fruit tree. Make sure that they are adequately spaced; about 20 feet between plants.
Check plants regularly for pest e.g. scales and white flies. When the plant is small, these can easily be removed with cloth and soapy water
Remove side shoots. These can be found growing up below the grafted area. Use a sharp pruner to cut these shoots cleanly from the main stem.
When your plant begins to grow (this can be seen by new shoots coming from the tip of your plant) pay special attention to the taped area. You will begin to notice that the tape is tightening around the stem. At this point it is time to cut the tape from around the stem. Use a sharp knife and cut through the tape and remove it cleanly from the plant.
We appreciate your comments and questions on the care of young fruit trees.
Please call or visit the Plant Propagation Unit
Department of Agriculture
P.O. Box 39
La Guerite Basseterre
Telephone: 1-869-467-1841
Facsimile: 1-869-465-2928