Comments Off

on BELLIS 38 WG – The Premium Fungicide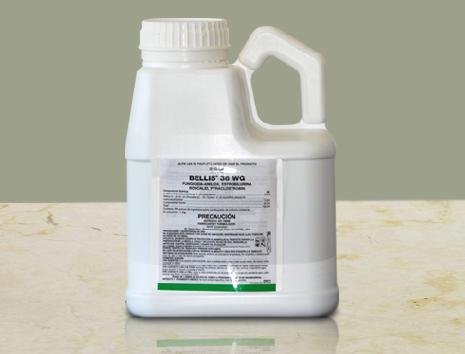 Application : Apply every 2-3 weeks preventative and a maximum of 4-6 sprays per crop
For Superb Disease Control Against
Gummy Stem Blight in Cucurbits
Frog Eye Leaf Spot in Cabbages
Early Blight in Tomatoes
Black Sigatoka in Banana
Scab, Melanose, Greasy Spot in Citrus
Anthracnose: Papaya, Eggplant
Celery Leaf Spot in Lettuce
Gray Leaf Spot in Tomatoes
Rust in Bodi bean
Cercospora & Septoria Leaf Spot in Celery
12 Turf Disease
"Cercospora"

"Early Blight"
PROTECTS. CURE. ERADICATES.
"Gummy Stem Blight"

"Frog Eye Leaf Spot"
Is a combination product (premix) fungicide consisting of two active ingredients Pyroclastrobin and Boscalid "two breathing inhibitors".
Protects, Cures and Eradicates fungal infections and is Anti sporulant (inhibits spore germination)
Is extremely broad spectrum:- controls diseases caused by 4 different classes of fungi
Is environmentally friendly and is non-toxic to bees and fishes
Is highly Translaminar and has Baspital movement across leaves, resulting in quick penetration of leaves and "Quick Action" and "Fast Results"
Provides long residual control of up to 3 weeks and is resistant to Rain Wash.
FAST ACTING & LONG LASTING.
HIGHLY TRANSLAMINARS SYSTEMIC
EXTREMELY LOW RATE ½ -1 TSP/GAL
BROAD SPECTRUM APPLICATION