Comments Off

on Anthuriums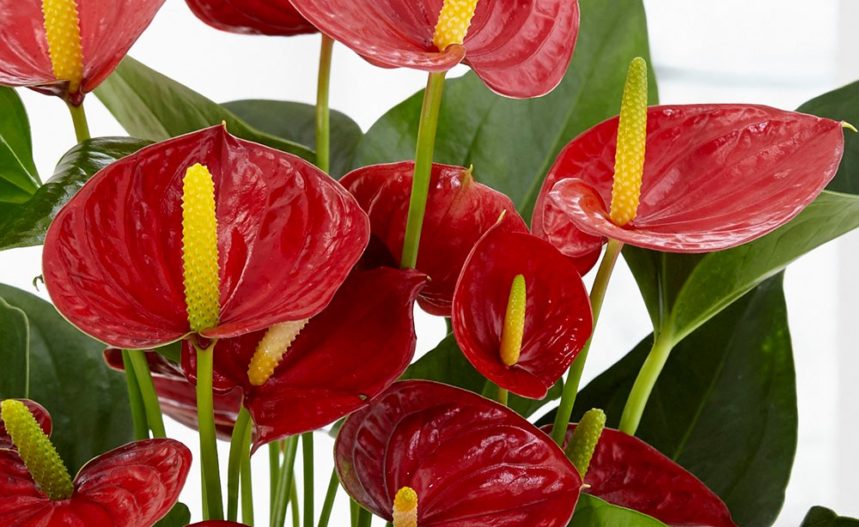 PROPAGATION
Grow plants until some roots have developed high on the stem near top.
Remove top to produce a new plant.
Removing base develops side suckers.
MEDIA
Grow in a high organic, well aerated medium with good water retention capacity, but also good drainage. Coconuts shells, charcoal and bagasse are commonly used.
SPACING
Maximum production practice means closer spacing with heavier pruning- 30cm x 30cm gives 62,500 plants/ha. Plants may be pruned with a maximum of 4 leaves with no adverse effect.
LIGHT
Shade is necessary for normal growth of anthuriums. Usual requirement range from 60 – 80% of full sunlight.
FERTILIZERS
Mix 250 kg Triple Super Phosphate (T.S.P.) / ha with the growing media prior to planting- (4g per plant). Apply 4g 13:13:21 per plant after 15 days of planting. Water plants after fertilizer application. Additionally, you can use slow release fertilizer- OSMOCOTE 13:13:13. Apply foliar fertilizer once per month. Use POKON 7-11-27+3.5 or PETERS. BLOSSOM BOOSTER.
HARVESTING
Flower mature on spadix from base to apex. After the lower ¼ of the spadix has changed colour the anthurium is ¼ mature. Most blooms are harvested about ¾ maturity, they have longest vase life.
PEST CONTROL
Insect pests are prevalent when it is hot and dry.
Do not apply pesticides between 10 am and 3 pm.
Anthuriums are extremely sensitive to phytotoxic injury.
Thrips – ADMIRE, ADMIRAL & FASTAC.
Snails– SNAILS & SLUGS BAIT, VYDATE-L
Mites– TORQUE, APPLAUD, M-PEDE
DISEASE CONTROL
Anthracnose– DACONIL, BENLATE, SAPROL, MANZATE
Root knot nematodes – Drench with VYDATE-L
Root rot– BANROT, CAPTAN, ROZOLEX.
Bacterial leaf spot diseases (Water soaked areas near leaf edges).
Early removal of infected leaves.
At later stage, remove plant and burn. Disinfect husk with formaldehyde.
Strict sanitation (Disinfectant footbath and sterilization procedure for harvesting).