The Agro-processing Unit of St. Kitts and Nevis is under the Ministry of Agriculture, St. Kitts and is fully Government owned.However, it first started as a project undertaken through a cooperation agreement between the Taiwan Technical Mission and the Ministry of Agriculture in St. Kitts and Nevis. It was initiated when the SSMC (St. Kitts Sugar Manufacturing Corporation) closed down in 2005. The SSMC Soil Analytical Laboratory at Needsmust, was renovated to house the Agro- processing Unit. It was opened in May 2006.
The Agro-processing Unit is managed presently by Mrs. Andrea Passee- Morton who was employed as Manager when the Unit was handed over to the Government of St. Kitts and Nevis in December 2013.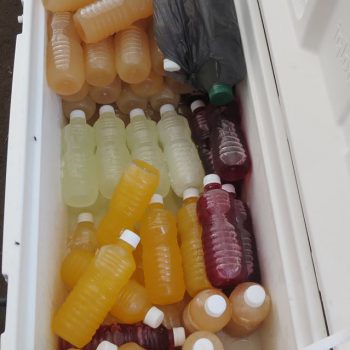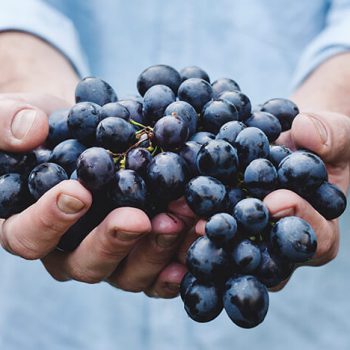 The Unit's primary function is to use local agricultural produce to generate healthy, natural goods, which add value to local agricultural industry. Agricultural produce for processing is obtained from the Needsmust Farm (which also comes under the management of the Unit), local farmers, as well as regional suppliers when there is a shortfall locally.
In addition, the Unit is also used as a center for training courses for farmers, students and local producers, who are interested in agro-processing. Schools and Organizations request a tour of the facility on a regular basis.
The Unit serves as a platform to provide food processing technology information for local agro- processors and farmers.The processors are also allowed to use some of the equipment at the facility on a scheduled basis to assist them in their production when necessary.
To date, the Unit produces and sells 45 different products including five healthy natural fruit juices and herbal drink, dried natural and candied fruits, guava cheese, exotic fudges such as pumpkin, soursop and guava fudges. It produces jams such as guava, sorrel, mango, pumpkin, wax apple. Other products are gluten free flour including breadfruit, cassava and sweet potato flours. Whole milk yogurt and a variety of healthy chips such as plantain, banana, breadfruit, cassava, and sweet potato chips are produced by the Unit. Our products are available to the public in St. Kitts and Nevis. They can be purchased at leading supermarkets, duty free shops at Port Zante and the Airport, major hotels in St. Kitts and Nevis and outlets at popular tourist sites in St. Kitts.  The income from the sales of products provide support to the Unit which helps in its sustainability.
| Description | Size | Shelf Life |
| --- | --- | --- |
| Sugar Cane | 16 oz | 3 months |
| Star Fruit | 16 oz | 3 months |
| Sorrel | 16 oz | 3 months |
| Limeade | 16 oz | 3 months |
| Lemon Grass | 16 oz | 2 months |
| Pure Sugar Cane Juice | 16 oz | Frozen |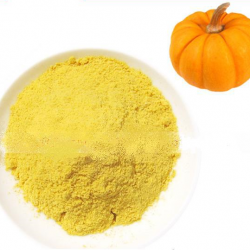 | Description | Size | Shelf Life |
| --- | --- | --- |
| Roasted Peanuts | 100g | 6 months |
| Dried Pineapples | 100g | 6 months |
| Mango Delight | 100g | 6 months |
| Dried Star Fruit | 180g | 12 months |
| Dried Star Fruit Natural | 65g | 6 months |
| Dried Jujube | 200g | 12 months |
| Dried Sorrel | 36g | 12 months |
| Green Plantain Flour | 200g | 6 months |
| Green Banana Flour | 200g | 6 months |
| Sweet Potato Flour | 227g | 6 months |
| Cassava Flour | 227g | 6 months |
| Breadfruit Flour | 227g | 6 months |
| Pumpkin Powder | 114g | 6 months |
| Guava Cheese | 150g (9 pcs) | 6 months |
| Dried Natural Wax Apple | 65g | 3 months |
| Dried Peppers | 25g | 6 months |
| Dried Natural Pitaya (Dragon Fruit) | 85g | 3 months |
| Candied Pumkin | 80g | 6 months |
| Pumpkin Fudge (Natural) | Bag (4 pcs) | 2 months |
| Pumpkin Fudge (Spice) | Bag (4 pcs) | 2 months |
| Guava Fudge | Bag (4 pcs) | 2 months |
| Soursop Fudge | Bag (4 pcs) | 2 months |
| Coconut Fudge | Bag (4 pcs) | 2 months |
| Description | Size | Shelf Life |
| --- | --- | --- |
| Pineapple | 190g | 18 months |
| Sorrel | 190g | 18 months |
| Guava | 190g | 18 months |
| Mango | 190g | 18 months |
| Star Fruit | 190g | 18 months |
| Golden Apple | 190g | 18 months |
| Pumpkin and Lime | 190g | 18 months |
| Wax Apple | 190g | 18 months |
| Tamarind | 190g | 18 months |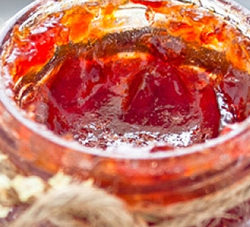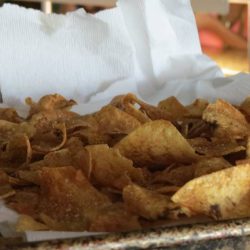 | Description | Size | Shelf Life |
| --- | --- | --- |
| Plantain Chips | 75g | 3 months |
| Sweet Potato Chips | 60g | 3 months |
| Green Banana Chips | 65g | 3 months |
| Breadfruit Chips | 65g | 3 months |
| Cassava Chips | 65g | 3 months |
| Taro (Dasheen) Chips | 65g | 3 months |
| Description | Size | Shelf Life |
| --- | --- | --- |
| Yogurt | 500g | 1 months |
| Description | Size | Shelf Life |
| --- | --- | --- |
| Sugar Cane | 16 oz | 3 months |
| Star Fruit | 16 oz | 3 months |
| Sorrel | 16 oz | 3 months |
| Limeade | 16 oz | 3 months |
| Lemon Grass | 16 oz | 2 months |
| Pure Sugar Cane Juice | 16 oz | Frozen |

| Description | Size | Shelf Life |
| --- | --- | --- |
| Roasted Peanuts | 100g | 6 months |
| Dried Pineapples | 100g | 6 months |
| Mango Delight | 100g | 6 months |
| Dried Star Fruit | 180g | 12 months |
| Dried Star Fruit Natural | 65g | 6 months |
| Dried Jujube | 200g | 12 months |
| Dried Sorrel | 36g | 12 months |
| Green Plantain Flour | 200g | 6 months |
| Green Banana Flour | 200g | 6 months |
| Sweet Potato Flour | 227g | 6 months |
| Cassava Flour | 227g | 6 months |
| Breadfruit Flour | 227g | 6 months |
| Pumpkin Powder | 114g | 6 months |
| Guava Cheese | 150g (9 pcs) | 6 months |
| Dried Natural Wax Apple | 65g | 3 months |
| Dried Peppers | 25g | 6 months |
| Dried Natural Pitaya (Dragon Fruit) | 85g | 3 months |
| Candied Pumkin | 80g | 6 months |
| Pumpkin Fudge (Natural) | Bag (4 pcs) | 2 months |
| Pumpkin Fudge (Spice) | Bag (4 pcs) | 2 months |
| Guava Fudge | Bag (4 pcs) | 2 months |
| Soursop Fudge | Bag (4 pcs) | 2 months |
| Coconut Fudge | Bag (4 pcs) | 2 months |

| Description | Size | Shelf Life |
| --- | --- | --- |
| Pineapple | 190g | 18 months |
| Sorrel | 190g | 18 months |
| Guava | 190g | 18 months |
| Mango | 190g | 18 months |
| Star Fruit | 190g | 18 months |
| Golden Apple | 190g | 18 months |
| Pumpkin and Lime | 190g | 18 months |
| Wax Apple | 190g | 18 months |
| Tamarind | 190g | 18 months |

| Description | Size | Shelf Life |
| --- | --- | --- |
| Plantain Chips | 75g | 3 months |
| Sweet Potato Chips | 60g | 3 months |
| Green Banana Chips | 65g | 3 months |
| Breadfruit Chips | 65g | 3 months |
| Cassava Chips | 65g | 3 months |
| Taro (Dasheen) Chips | 65g | 3 months |

| Description | Size | Shelf Life |
| --- | --- | --- |
| Yogurt | 500g | 1 months |